A new service that will be available starting May 19th, OverDrive Listen will enable you to borrow audiobooks and listen to them directly within your browser with a single click. There are no downloads or software required; all you'll need is a compatible web browser. OverDrive Read, which allows you to read ebooks directly in your browser, is already available.

To get started, borrow an audiobook that's available in the OverDrive Listen format from Harrison County Public Library's OverDrive site. Then, click or tap the Listen button next to the audiobook on your library Bookshelf to open it in OverDrive Listen.
Please note that not all audiobooks are available in this format, as this is dependent upon the publisher.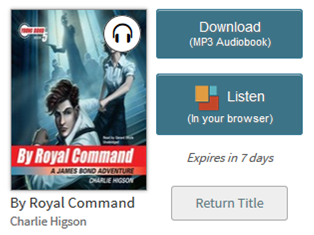 Will OverDrive Listen work on my device?


For best results on a computer, you'll need:
Windows 7 or newer

Mac OSX 10.9 or newer

A Chromebook (Chrome OS) 


You'll also need an up-to-date version of one of these web browsers:

If you're using a mobile device, you'll need:
Right now, the following devices don't work with OverDrive Listen:
What are some features of OverDrive Listen?
OverDrive Listen allows you to add bookmarks, make notes, or leave highlights in borrowed audiobooks. You'll need to use the same device and browser for OverDrive Listen to access your listening position, bookmarks, notes, and highlights. Learn more about using OverDrive Listen here.
You must have an active Internet connection to use OverDrive Listen, as it is a streaming audiobook player. If you'd like to listen to audiobooks without an internet connection, you can still use the OverDrive app to download and listen to the MP3 format.