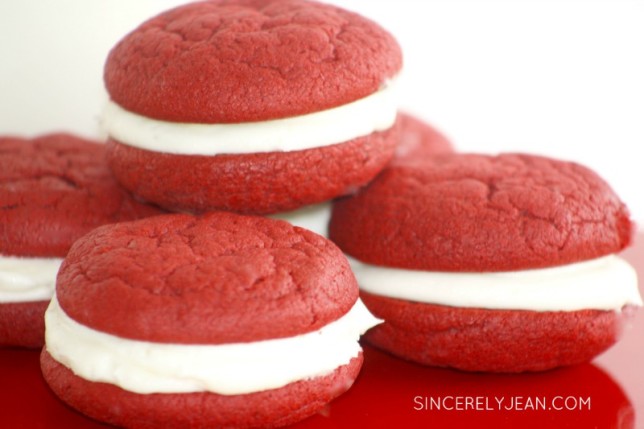 Photo and recipe from Sincerely Jean.
Try this homemade Red Velvet Oreo recipe for Valentine's Day.
RED VELVET OREOS
Makes 12 sandwich cookies
INGREDIENTS
For cookies:
1 box Red Velvet cake mix
2 eggs
¾ cup shortening
For filling:
½ cup shortening
½ cup unsalted butter
1 tablespoon hot water
2 cups powdered sugar
¼ teaspoon vanilla extract
¼ teaspoon almond extract
INSTRUCTIONS
Preheat the oven to 350°.
In a large bowl, mix the eggs, ¾ cup shortening, and cake mix until well combined.
Roll the dough into 24 equal-sized balls and place them on a greased cookie sheet.
Bake the cookies for 10 minutes (or until done.)
Allow the cookies to cool for a few minutes before transferring them to a cooling rack.
In another bowl, mix the butter, water, powdered sugar, vanilla and almond extracts, and ½ cup shortening until light and fluffy. Put the cream into a Ziploc bag and cut a small hole for piping.
Once the cookies are cooled, flip one over and pipe about 2 tablespoons of filling. Place a second cookie on top and gently press them together. Repeat until all the cookies are finished.
I have it on good authority that this is the best recipe ever made at the library ever ever, 10/10:
Check out the rest of our photo album here.
Afterschool Crafts is a craft, cooking, and art program for children in grades 4 and up. We meet on Thursdays once a month at 4 PM. Follow this link to check our schedule and sign up for the next session.